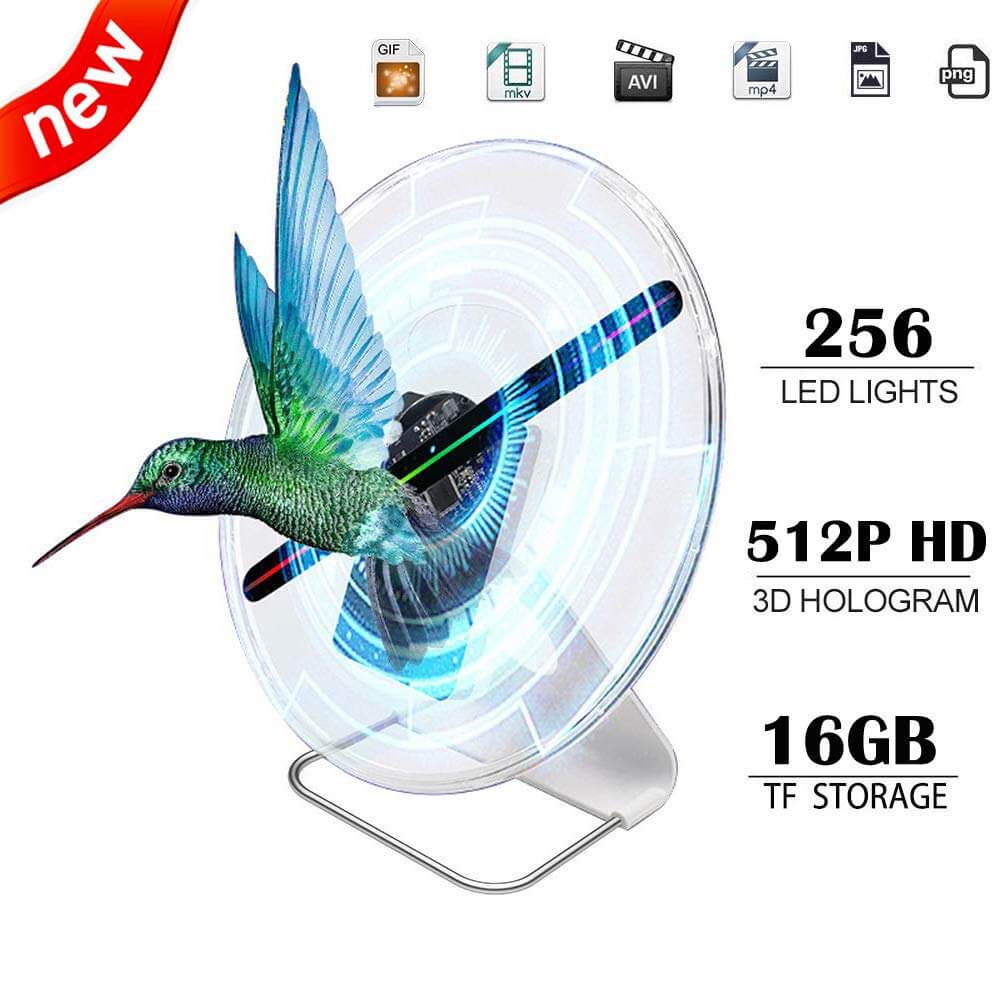 This 3D hologram fan is suitable for family gatherings and other small places.
3D Hologram Fan丨Desktop Level
Size: 30cm
LED Quantity: 256 Pcs
Resolution(Pixel): 512*512
Visual Angle: 160°
Dimension: 336x314x356(mm)
Lamp Beads Life Time: 100,000 hours
Support: WiFi, TF Card
1: [Handle/Desk Level]: SH-30 is our 1st genneration handle level of 3D hologram fan, it has changed the traditional wall mounting methods. Bracket and strap makes it can installed anywhere (desk, body, wall, package, car)
2: [Rechargeable battery]: 14.8V, 2200mAh built-in battery, 5-6 hours battery endurance. Built-in battery made 3D Hologram Display Fan SH-30 can be used and displayed anywhere, not via sockets only.
3: [Transparent protect cover]: 800r/min spinning speed, the ABS transparent protective cover gurantees safety to kids and minimize noise. Please notice that it's not waterproof and avoids use in rainy weather.
4: [Top-notch 3D effect]: Create, display & manage awe-inspiring 3D holographic visuals that appear to be floating in mid-air. Perfect for digital signage campaigns, holographic billboards, activation events & digital point of sale displays.
5: [Outstanding service]: 7/24 online support, 12-month warranty, free 3D video library, accept custom 3D video. Customer service email: sales01@superbholo.com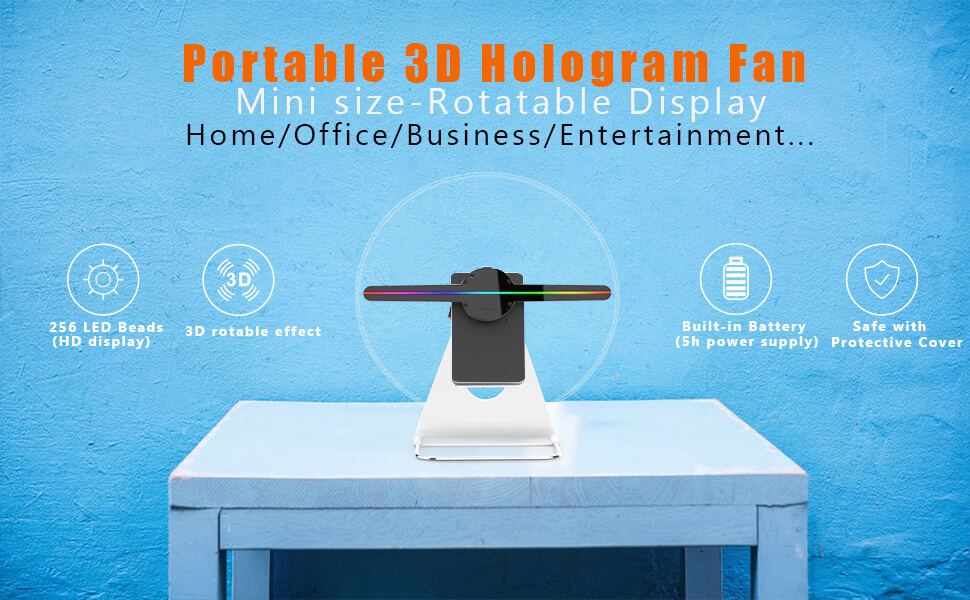 The mini-size innovative 3D hologram fan offers a funny display of photos or videos for your home, office, shops. It uniquely introduces a hi-tech hardware device generating stunning 3D visuals perceived by viewers as hi-resolution holograms floating in the mid-air.
MORE FUNNY & CHIC WAY for LIFE STYLE: it can act as like a digital picture frame in displaying photos or videos, you can enjoy happy time anywhere.
MINI SIZE & PORTABLE: 12 inch diameter and light weight ensures it can be carried with you anytime anywhere. 
SAFE TO KIDS: this 3D hologram device is equipped with transparent protective cover, which eliminates any harm to your kids.
File Support format: MP4 / AVI / RMVB / MKV / JPG / GIF / PNG
PORTABLE or MOUNTED TO THE WALL
Being mounted onto the wall in your bedroom and living room to work as a digital photo frame.Enjoy funny, vivid photos and videos and sharing the sweet moments and happy memories with your family members.
Coming with transparent protective cover to protect safety and avoid noise while using.There is no danger even your kids touch it
PORTABLE WITH CONTINUOUS POWER
Power: 5.5w
LED life: 100000hours
Product weight: 825g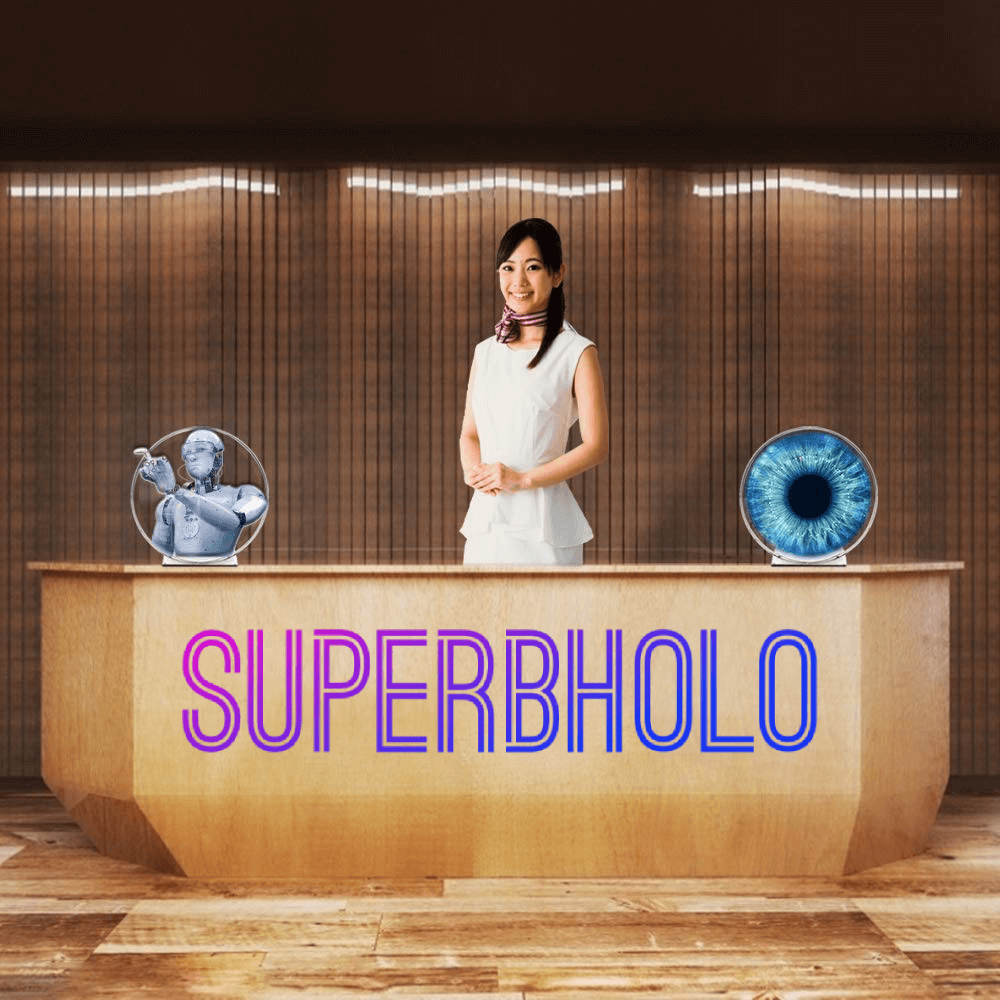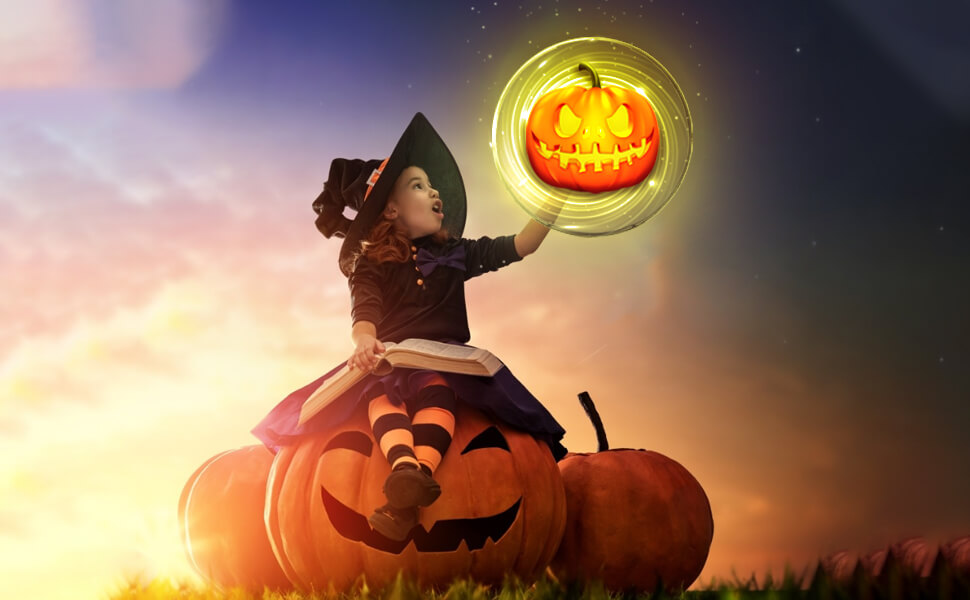 Holographic digital signage solutions are the next major retail trend. Design great content, gain analytics and change your messages with our digital signage software. Discount, Up to 70%, Welcome…
Captain America, Dr. Strange, be your own hero. Halloween pumpkin, christmas candy.perfect for all kinds of festivals. Experience the Superbholo SH-30 of "WOW"
Business Hour. Hang the 3D Hologram Led Fan SH-30 on your door or wall, more eye-catching than traditional neon lights.
The transparent protective cover gurantees safety to kids and minimize noise.15-30db is very quiet,friendly for home use and kids.Create mind-blowing & immersive digital out of home campaigns anywhere.
"First impressions last" and holographic advertising is the most impactful.Superbholo increases a typical shopper's attention span by up to 30 seconds.
Desktop 3D Hologram Device SH-30 is widely compatibled with various activities. Wedding, Party, Meeting, Conference, exhibition… Lithium battery build-in makes 3D Hologram Device SH-30 to be used anywhere and anytime,