What is 3D Hologram Fan?
This article takes you through everything
3D Hologram Display Fan
The 3D Hologram is one of the three-dimensional images generated using the photography projection. It is a highly 3D standing image, which is not simulating the spatial depth. The hologram led fan is an effective solution to buy. It is because the 3D Hologram led Fan comes under higher storage capacity when compared to the other. Otherwise, this delivers the increasing feasibility of objects as well. 
Various Benefits Of Choosing A 3D Hologram Display Fan
The 3D Hologram led Fan is one of the effective display solutions to create the holographic illusion. Including this are creates the illusion of a hologram floating in the air. The setup and installation of the fan are simple and straightforward. When using this 3D fan hologram, then it is simple to hang the video content is easier. In order to use this LED fan, you have to plug in the micro SD card in the slot. Then it is ready to use. This LED fan display works in all conditions. We offer a high-end quality hologram fan display to enjoy the animated sequences in three dimensions. This is having the ability to create multiple images on a single plate including the 3D images. 
Advantages of 3D hologram display fan: 
And also you never use any of the projection screens to use this hologram 3D display. The specification, brightness, and other quality everything is perfect to use in the 3D Hologram Display Fan. This is you can use for different purposes easily. The size is also available in different, so according to your needs, you can choose the size and use it.   
Get the advanced technologies from 3D Hologram Display
SUPERBHOLO is one of the top 3D Hologram led Fan display manufacturers and they are giving the advanced technologies in it. There are multiple people are started to utilize this for promoting their products through it. By using this you can do multiple things and it is a cost-effective one also. 
Reason for its uniqueness 
Most people are utilizing these advanced technologies for their business and it was made with unique ideas. We will give some excellent features to it and that's why it is getting the immediate reach in a short time. The 3D Hologram Display Fan will be the perfect one to attract everyone's attention to you that's why it becomes the highly preferred one. 
This will be the perfect one forever and there is no one will underestimate the value fit at any time. This 3D holographic view will be the perfect one for attracts everyone and it will be the perfect one to display your company's ads through it. If you are doing so it will get immediate reach and these are all the amazing qualities of this 3D Hologram Display Fan and try to get it soon.        
How dose 3D hologram fan work?
In order to carry easily and transport safely, we divide the device into one motor and four blades.
2.2 Upload contents(videos or pictures)
There are two upload mode 3D hologram fan on the market. One is to plug the sd card into the computer and use software to convert the contents to upload (Low-end way). The other is to upload contents via our App (High-end way). For second mode, we just need to save the videos or pictures to the phone and then upload them through our app. All of our 3D fan hologram device will emit a hot spot(WiFi). We use our smart phone to connect it then upload cotents. This model is simpler and more convenient.
What can 3D hologram fan do? Where can it use?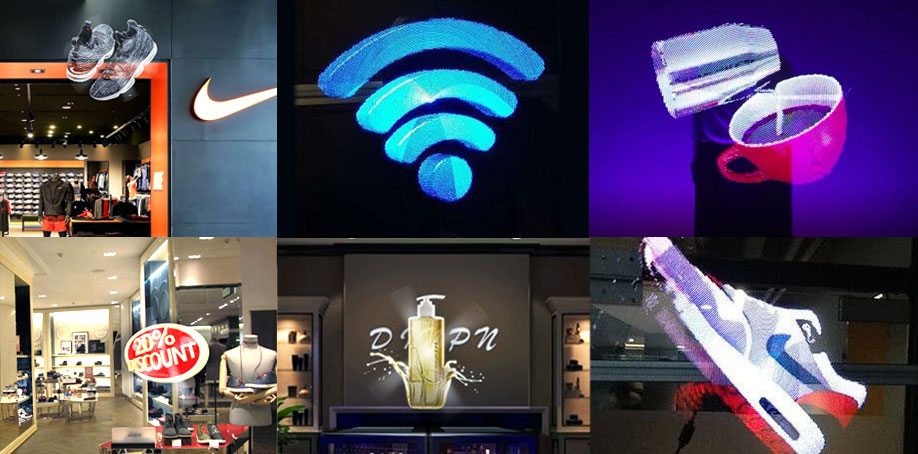 There are a lot of names for 3D hologram fan like 3D holographic fan, 3D hologram device, 3D hologram led fan, etc. 3D holographic advertising machine is a new type of advertising media device, which uses the LED rotating display technology, and human eye persistence principle, graphics, animation and video, because it has no borders, no background, give a person the visual perception image suspended in the air, mainly used in shopping mall,store,wedding, subway, railway stations, airports, KTV, bar, studios, opening ceremony, the meeting, etc. In a nutshell, It can bring a powerful advertising effect to your product or venue.
What are the requirements for the video? How to find or make a 3D video for 3D hologram fan?

There is no special format requirement, normal format mp4, avi, rmvb, mkv, gif, jpg, png will work. The only requirement for video is a 3D video with a black background. We often get asked what would display on the device if we didn't upload a black background video. The answer is that the device will display normally, but not in 3D. It's like watching a regular TV without showing the 3D characteristics of our devices.
There are some ways to find 3D videos for 3D hologram fan
1: Look for it on major video website like Youtube, Instagram. The key words: 3D fan hologram video. Here I recommend a website that makes 3D videos for free: https://panzoid.com/
2: We offer our clients with 3D video database covering animals, plants, food, drinks, beer, logos of famous companies, beautiful animations and so on. Customers can choose the video according to their needs. The image on the right is a list of video themes on our 3D video database.
3: Find some 3D company to make your own 3D video. We also have a 3D design team that provides 3D video production. And our price is much cheaper than other 3D companies. A simple company LOGO 3D rotating video only costs 30USD. Slightly more sophisticated videos start at $50. Price depends on your video requirements.



Why choose SUPERBHOLO 3D hologram display LED fan over competitors?
Before investing in any one product, we need to screen the market to get the best suppliers. 3D hologram fan led display is no exception. We wrote an article about our strengths in detail before. Click here to read. Overall, whether it's quality, price, service. We have always been the leader in this industry.
How Can A 3D Hologram Display Fan Help Your Business?
If you need the best method to advertise your product, you can use hologram fans to grab the audience's attention. Recently, the 3D Hologram Display Fan is getting more popular because of its affordability. Many businesses use this display to promote products or services uniquely. You can find this display in various places such as hotels, cinemas, heavy-traffic areas, exhibitions, etc. There are many benefits of using a three-dimension display fan. Let's see how 3d hologram display can help small businesses: 
A critical benefit of using the 3D hologram fanis grabbing viewers' attention. It helps to increase the sales and revenue of the business.
The three-dimension hologram display is simple to use and maintain, making it a convenient option for small businesses.
Besides, 3D hologram display perfectly suits exhibitions, events, marketing, and others.
The Hologram display has fast-moving fan blades with LED leads that create quality visuals. It helps to create an immersive experience for audiences.
Compared to other marketing methods, 3d hologram display is pocket-friendly and makes an unforgettable experience.
You can purchase the Fan Hologram online at an affordable price. They will deliver the product to your doorstep within a short time. You can place this display fan in commercial or residential places that offer an attractive look.