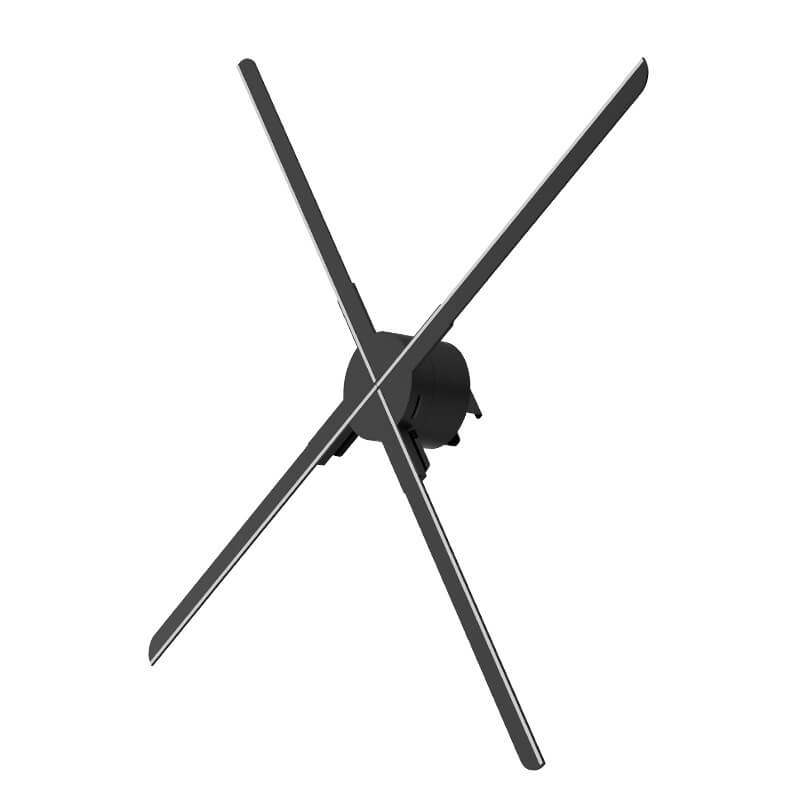 It is widely used in airport, hotel, exhibition, shopping mall, bar, wedding or other place to catch everyone's eye and help you attract traffic, spread, share amazing things.
3D Hologram Fan丨Commercial Level
Size: 80cm
Resoluton:1280x1280P
Visual Angle: 160°
Lamp Beads Life Time: 100,000 hours
Support:  WIFI,Cloud
Feature:Audio support,3D hologram video walls.Cloud Service(manage all your devices in one place with remote control),Live Stream function.
1:[2020 NEW RELEASE SH-80]:New release 3D Hologram Fan  SH-80 with Four-axil design + HD(1280*1280px) + Powerful WiFi + Upload by APP + High transfer speed + 1280 LED beads + free 3d video library + larger size(31.5inch) + 50% brightnees.Actually,  SH-80 has reached the VSN technical limit.
2:[1280P HD & LARGER SIZE]: 1280P resolution is the clearest holograms in the market,1280 led beads are highly densely arranged on the blade and the diameter size increased to 31.5 inch.Large 3d HD visuals with a realistic holographic effect is far more sharking than other models.
3: [FOUR AXIL DESIGN]: Four-axil design minimizes the ring grain effect and vibration.The detachable fan blade greatly reduces the volume and shipping price.3D Hologram Display SH-80 support cloud system for those who would use the fans in different stores, cities, or states.
4:[HIGH TRANSFER SPEED]: 0-50M files needs 5-45s,50-100M needs 45-120s.For the upgrade system and program,the APP transfer speed is much faster than SH-42.The most important thing is that the fans playing mp4 format directly and not need to be converted to bin format.
5:[LEADING WARRANTLY]: Superbholo offer 1 year factory warrantly. Now on the market, some sellers have stolen our 3D Hologram Device SH-80 product picture,degital and discription.Their price is improssibe and crazy.We have tested, they are faker holograms.Their products have caused us so much damage that we have begun to Sue them.
Best 3D Fan Hologram for Eye-catching Advertising
If you're trying to attract customers, the first step is getting their attention. A 3D fan hologram is so eye-catching that people can't help but look. Add some motion or a short video, and you're bound to get people's attention. A traditional projector uses an internal light bulb to project colored light onto a flat surface. As the light changes and moves around, the image changes. A 3D fan hologram, on the other hand, works in the opposite way. It mounts on a wall or other surface. As the fan rotates, the LEDs move around and change color, generating an image that appears to float in midair. This effect is so novel that it's quickly become popular with brick-and-mortar advertisers.
The 3D fan hologram is one of the most cost-effective display solution to create a holographic illusion. If you want to create the illusion of a hologram floating in the air, the Hologram LED Fan is the prefect solution. Doing the set up and installation of the Holographic Fan is extremely simple. This is one of the easiest display to install and use. Changing the video content is extremely easy, just plug the micro SD card in the slot and it is ready to go. The 3D Hologram LED Fan is a display that can be seen in all conditions, this is a plug and play display. Industries of 3d & laser holography industries always emerge new creatures, in recently, big screen video from instagram showed a brand new items from China, it is: LED fan hologram, what he wrote is: he boys brought back some cool toys from their last China trip! This is one strip of LEDs working like a fan. Keep watching towards the end for the full 3D graphics.
Due to its brightness, this 3D hologram fan generator can be seen at day light or at night. It can be used with an acrylic cover or just installed in a wall or pole. The real 3D fan hologram is easy to transport, weighting just 2.5 kg. Connecting and synchronizing multiple devices can allow you to create an incredible holographic effect, and as big as you want or need. We strongly recommend to install the 3D Hologram LED Fan at least 2.5 meters high or a considerable distance to avoid curious from touching it. This holographic display is controlled by a remote control, helping you to keep a safe distance to prevent any damage. The amazing illusion coming from this Hologram Fan is created by a LED light bar spinning at high speed, turning the hardware structure practically invisible but creating a floating video with 3D effect.
3D fan hologram serves as a portable holographic display, perfect for creating point-of-sale impact wherever you want. What better way of grabbing attention for your product or service than a big colourful 3D hologram floating in mid-air!