As a leading independent R&D and manufacturer of 3D holographic display, SUPERBHOLO always focus on innovative technology and high-quality 3D hologram led display fan projector.We developed brushless holographic advertising machine series and the Cloud control system, realize the screen splicing, real-time control, the gesture interaction content,  voice control, etc., and introduced the 3D hologram projector fan, full series of professional level is not only to fill the gaps technologies at home and abroad, and exported to the America, Europe, Australia, Asia, Africa and so on more than 80 countries and regions to become the world leader in the industry.Based on holographic display, SuperbHolo engages in holographic projection, holographic education, holographic film and television, holographic commercial display and other fields. With multiple sectors advancing hand in hand, the field complements each other's advantages to help the continuous upgrading of holographic display.
5 reasons why is SUPERBHOLO 3D hologram fan superior to others
Technical excellence enables our commercial products to reach the craft-level.The resolution of our comerical level model SH-65  is 1080P.The max size model SH-100 even reaches 1404P.More professional processing of RGB color technology allows your video to be 100% restored on our devices as possible.The continuous improvement of the top technology makes us the leader in this industry.This is also some small factory production of bad goods far cannot compare.Let's take the simplest example.The lifetime of our  3D holographic display is 50000 hours (more than 5 years).But the lifetime of cheap 3D holographic fan is mostly one month to six months.Therefore, as a customer or investor, it is not a wise choice to pursue low price and choose inferior 3D hologram fan.The best quality is what keeps your business going, and that's what we do.
Because our factory SUPERBHOLO is in China.Compared to other countries, our prices are not high due to the relatively cheap labor and material costs.Let's make a comparison.The most famous British manufacturer's price for 56cm is from USD 2200, as shown in the figure.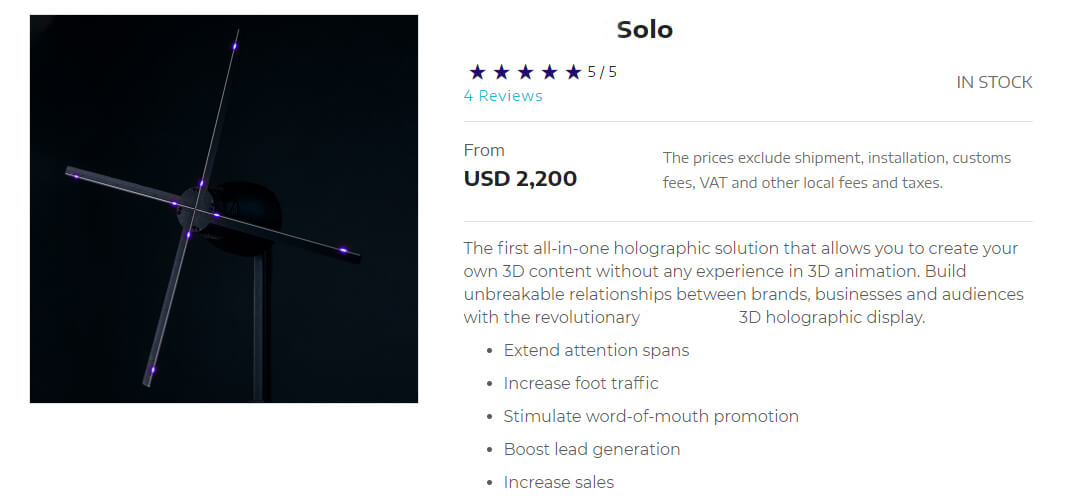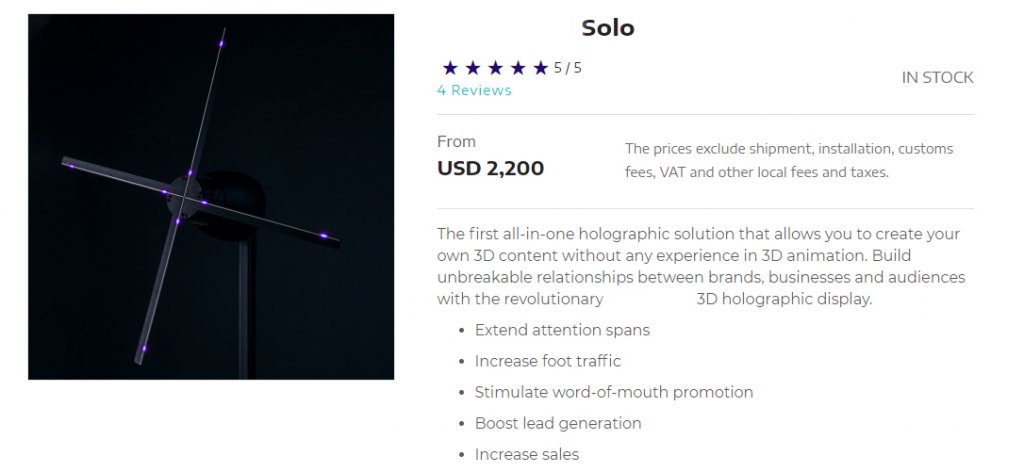 Our model SH-56 of the same size only sells for 400USD.The price is one fifth of theirs.For resellers, only the holographic led display fan with low price and high quality are suitable for investment.And according to my client feedback, this company is very expensive for the conditions to join.This is extremely unfair to the customer.We don't have that many rules and regulations.If you would like to learn more about our prices or to become our distributor, click here to contact us.
We have a team of over 50 people which including 3 salespeople and 10 engineers.Therefore, both before and after sales service, we give our customers the most professional advice and solutions.24 hour technical support will ensure that we will respond to any of your request within 3 hours.And we guarantee all the 3D hologram projector fan we sell for one year.Even after the warranty expires, if your 3D hologram fan led display breaks down, you can get a brand new machine for a very low maintenance fee.
For distributors and agents.Neutral packing is the most important point.In the current better 3D hologram display munufacturer, they all put their own logo printed on the machine and packaging.This can be fatal for customers.Let's say you're a distributor. After you've invested a lot of time and energy in the 3D holographic display industry, your customers will eventually find your suppliers because of the logo.You will lose your big clients.Don't believe the (your supplier)factory's bullshit:"we don't deal with your customers.I promise you."In front of profit,they don't care what you are.So in order to protect your interests, you need a supplier who can provide you with neutral packaging.That's what we do.We don't print our logo anywhere including machine, packaging, App, cloud system.That's what a qualified supplier should do.Even after you have a large number of orders, we can create a brand new for you belong to your own brand.I'll talk more about that later in my blog, or you can contact us for more details.Click here to contact us now.
Look for the best 3D hologram projector led display fan.The most important thing is that it has enough business experience.In 2020,SUPERBHOLO help all 20 big companies around the world complete their business of 3D hologram video wall(What's it?)They are all satisfied with our service and quality.And in China,we've done 100+ projects of video wall during 2020.We've put some videos of projects we made on youtube and instagram,you could check there.
SuperbHolo Co.,Ltd,established in 2015,is the first enterprise of 3D Hologram advertising fan in China.We are committed to the research of holography, and continuously improve the level of science and technology year by year to meet the customer experience.After viewing this page,you should know Why Choose SUPERBHOLO 3D Hologram Fan Over Competitors.